If you want a perfect lawn, the use of herbicides are typically required. One type that is gaining popularity in recent years is Dithiopyr (Dimension). It's an organic compound with low toxicity to humans and animals alike, making it a very safe option for homeowners.
Dimension herbicide is a powerful, broad-spectrum preemergent post-emergent weed control product. It can be applied to the soil or watered into turfgrass and ornamental plants. Dimension has a very low toxicity rating on EPA's scale, but it does have some restrictions.
In this complete guide to Dimension herbicide, we will tell you everything you need to know about how, when, and why to use it – as well as some of the best products you can select.
What is Dimension Herbicide – and Why You Should Use It
When you're shopping for herbicides, particularly those for crabgrass, which is one of the most difficult lawn weeds to control, you'll have plenty of options to choose from. Consider Dimension if you want to invest in the best.
Dithiopyr is a chemical that is often referred to by its brand name, Dimension. This specialty herbicide is the only pre-emergent herbicide that will help control crabgrass before it appears. It's also effective for nearly four dozen other types of grassy and broadleaf weeds.
It has a much longer application window than other kinds of crabgrass herbicides so you will have more time to make applications. You can use it, in most cases, all the way into midseason without having to worry about finding a new product if the crabgrass has already germinated.
In addition to getting rid of crabgrass, it can also be used for other kinds of grassy weeds, like Poa annua and foxtail. Some of the other plants it can get rid of include:
Carolina geranium
Black medic
Lespedeza
Purslane
Spurge
Henbit
Goosegrass
Shepherd's-purse
…and more!
It is safe on most kinds of turf grasses and ornamental plants (it is rated for safety on more than 400 ornamental varieties, in fact). It is registered for use in all 50 states. You can use it on both commercial and residential turf, on commercial sod farms or ornamental and sports turf, and even around landscape, container, and field-grown ornamentals.
Dimension tends to be the best product at controlling crabgrass along with broadleaf weeds. It can kill younger crabgrass but also be applied later in the season.
Disadvantages of Dimension Herbicide
Of course, there are a few disadvantages associated with Dimension herbicide, too.
For instance, it can kill good grass if roots are not fully established before application. Timing is key when applying any kind of herbicide, but especially with Dimension.
It can be a bit more expensive than other kinds of herbicides, like Prodiamine, and it may need to be applied at a higher rate to fully get your crabgrass problem under control. It's also known to break down more with water and heat, so you'll need to be careful about where you store it.
Choosing the Best Dimension Product For Your Needs
Finding the right Dimension product for your needs depends on a few variables. Here's what you should look for.
Formulation
Begin by considering the formulation that will work best for your lawn. Dimension usually comes in a liquid, wettable powder, granular, or on-fertilizer form. Of course, you'll need to consider the label directions for each before you apply.
All formulations of Dimension are effective but liquid tends to be the most economical choice – it requires fewer applications to get the job done and usually requires minimal mixing or agitation.
Dosage Size
How much land do you have to cover? Dimension is available in half-gallon, two and a half gallon, and 30-gallon containers. Of course, you can also buy it mixed with fertilizer if you want to be more economical.
Weed Type
Dimension is most commonly used for crabgrass control. However, it is also effective for more than 45 other types of weeds. It can also be combined with other herbicides, like Gallery or Defendor, to get rid of a broader spectrum of weeds.
If holistic weed control is your goal, then you'll want to consider these other products that have additional herbicides mixed in.
Best Dimension Herbicide Products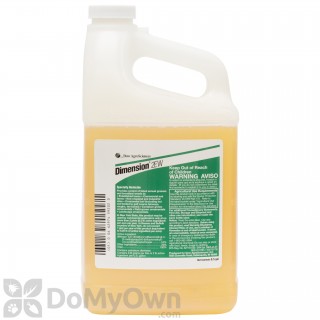 Dimension 2EW Herbicide
Active Ingredient: Dithiopyr 24%
Dimension 2EW Herbicide is water-based and contains 2 lbs. of the active ingredient dithiopyr per gallon.
Why DoMyOwn?DoMyOwn.com offers professional-grade insecticides to DIYers while ensuring proper storage of chemicals. Couple that with their impressive customer service and knowledgeable staff, it's the #1 choice.
Dimension 2EW Herbicide is one of the most popular products you can use to get control of crabgrass and broadleaf weeds both in turfgrass as well as over the top of landscape and ornamental plants. You won't have to worry about harming them, since Dimension 2EW is safe for use.
It is a water-based herbicide that contains 24% Dithiopyr per gallon. It targets many other kinds of unwanted grass species, such as smutgrass, oats, crowfoot grass, kikuyu grass, bluegrass, brome, and more.
Safe for use on both warm- and cool-season grasses, it does require the use of a surfactant to maximize its effectiveness, but only if your crabgrass has already emerged. It doesn't have an unpleasant odor and is easy to mix in a spray tank.
Features:
Available in multiple sizes, including half and 2.5-gallon jugs
Offers season-long control of grasses and broadleaf weeds
Non-staining and low odor
Can be used as both a pre-and post-emergent herbicide
Pros:
Mixes easily in a spray tank
Can be applied in a split or single application
You can mix with other herbicides for effective weed control
Cons:
More effective as a pre-emergent than as a post-emergent
Not as useful for getting rid of stubborn weeds like dandelions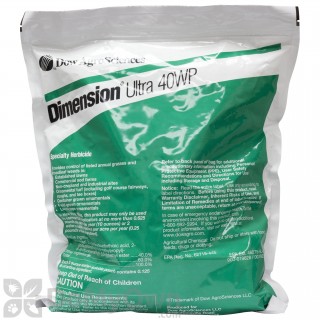 Dimension Ultra 40WP
Active Ingredient: Dithiopyr 40%
Dimension Ultra 40WP is a herbicide that will control pre- and post-emergent crabgrass in turf, sod farms, lawns, industrial sites, other non-croplands, and ornamentals.
Why DoMyOwn?DoMyOwn.com offers professional-grade insecticides to DIYers while ensuring proper storage of chemicals. Couple that with their impressive customer service and knowledgeable staff, it's the #1 choice.
This herbicide can be used as both a pre-and post-emergent crabgrass preventer on turf, lawns, sod farms, industrial sites, and even around ornamentals.
Unfortunately, this is not a Dimension product that is effective when it comes to controlling annual grasses and broadleaf weeds that have already emerged (crabgrass, of course, is the exception).
In the form of a wettable powder, you may want to use a surfactant for this product as well.
That said, it contains a higher volume of Dithiopyr per volume than many other products (up to 40%). Because of this, it can work much more quickly and effectively when used early in the season. It must be activated by half an inch or more of rainfall or irrigation after application.
Features:
Each packet covers up to half an acre
Shipped as a package of eight 5 oz bags
Wettable powder with 40% Dithiopyr
Intended for use in large areas

Pros:
Works quickly as a preemergent herbicide
Affordable option
Pet safe when used as directed
Cons:
Not ideal for smaller coverage areas
Does not work on broadleaf weeds and annual grasses after they have emerged
Quali-Pro Dithiopyr 40 WSB (Dimension) Herbicide
FEATURES & BENEFITS: Outstanding preemergent and early post-emergent control of crabgrass Non-staining, low odor formulation...
USE SITES: Established lawns Commercial sod farms Noncropland and industrial sites Ornamental turf (including golf course...
EFFECTIVE AGAINST: crabgrass, kikuyugrass, goosegrass, chickweed, annual bluegrass, barnyard grass, oxalis, ryegrass, spurge
Quali-Pro Dithiopyr 40 WSB is an herbicide that is highly effective when it comes to early control of crabgrass and more than 40 other species of grassy and broadleaf weeds. It can be used in nursery, landscape, golf course, and many other non-crop settings.
It will get rid of crabgrass along with plants like spurge, ryegrass, chickweed, goosegrass, and more. Shipped and sold in a packet, this herbicide is applied at a rate of about half an ounce to a gallon of water, with one packet covering about 10,000 square feet.
Features:
Mix with water and spray directly on the lawn
One packet covers about a quarter of an acre
Long-lasting results
Must be watered in
Pros:
Breaks down slowly but gradually in the soil
Can be applied several times, 5-10 weeks apart
Long shelf life
Cons:
Not granular so it can't be used in a spreader
Mixing ratios can be confusing
Does not control annual grassy weeds after they have emerged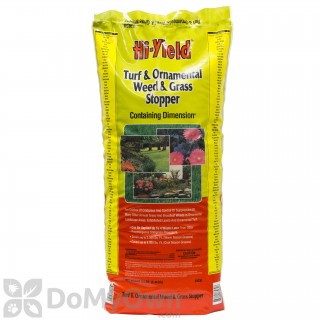 Hi-Yield Weed and Grass Stopper with Dimension Herbicide
Active Ingredient: Dithiopyr – 0.125%
Hi-Yield Turf & Ornamental Weed and Grass Stopper with Dimension provides superior prevention of crabgrass, as well as suppression of other listed weeds when applied before they germinate – without the need for mixing.
Why DoMyOwn?DoMyOwn.com offers professional-grade insecticides to DIYers while ensuring proper storage of chemicals. Couple that with their impressive customer service and knowledgeable staff, it's the #1 choice.
Hi-Yield is a well-known Dimension brand that can be used to get rid of crabgrass as well as many other kinds of weeds, especially when it is applied long before they germinate.
It contains a smaller volume of Dithiopyr than many of the other Dimension products we have listed but it's important to note that this is because it is not a concentrate; this product is mixed in and ready to spread, while the other products all require dilution with water.
You can apply this product both to cool- and warm-season grasses on ornamental lawns, gardens, parks, or golf courses.
Features:
Sold in both 12 and 35 lb bags
Not for use around edible crops
Application rates of 2.4-9.2 lbs per 1000 square feet (cool-season grasses) and 3.5-9.2 lbs per 1000 square feet (warm-season grasses)
Treats up to 15,000 square feet
Pet safe when used as directed
Pros:
Variety of package sizes available
Effective early in the season
Kills both annual grasses and broadleaf weeds
Cons:
Lower concentration of Dithiopyr
Bermudagrass can be sensitive to applications
How to Apply Dimension Herbicide
Begin by choosing the formulation that works best for your operation. Always use it based on the label directions for your specific region and grass type.
If you're using a liquid formulation, you will want to apply with a high-volume water carrier so that it can be sprayed uniformly. Any areas you treat will need to receive about half an inch of irrigation (or rainfall) after you have applied the herbicide.
A granular treatment does not require watering immediately after but you'll find that results are best if it rains (or you irrigate) within seven days.
Apply Dimension as a single application (or sequentially, if the first application doesn't get the job done) at a rate of one to two pints per acre. You can make repeated applications five to ten weeks later, depending on your needs and label instructions.
If you are trying to use Dimension as a post emergent herbicide, after weeds have already appeared, apply it at a rate of two pints per acre. For most cool season grasses, Dimension is most effective as a pre emergent herbicide. For warm-season grasses, it is effective as both a post-emergent and pre-emergent product.
Is Dimension Herbicide Right For You?
There are many herbicide options available to homeowners these days, but one of the most popular is Dimension. It's a selective post-emergent herbicide that will kill broadleaf weeds while sparing grasses and other desirable plants.
Is your lawn suffering from weeds? Dimension is a herbicide that kills them all. It's also safe for kids and pets when applied correctly, so you don't have to worry about what they might be exposed to if they get into it. The only thing you need to watch out for is not getting any on the grass because this will kill it too.
So is Dimension herbicide right for you? Only you can be the judge of that – but hopefully, our complete guide to Dimension has helped you determine whether it might fit the bill for your unique situation.
FAQ
How do you mix Dimension herbicide? 
Mixing rates for Dimension vary, but in general, you will need to mix this herbicide at a ratio of 0.5 to 0.73 oz of product per 1000 square feet in at least one gallon of water. 
How long does Dimension pre-emergent last?
It depends on which Dimension product you are using. Some products last a full 120 days with a single application while others require a split application to be effective. Watering in your herbicide is a good way to get it to last longer. 
Does Dimension need to be watered in? 
In most cases, yes, Dimension needs to be watered in. Use about half an inch of water to activate your product. Depending on the formulation, you can often wait about a week to provide the water necessary to water in your Dimension herbicide. 
Will Dimension kill dandelions?
Sometimes – it depends on which Dimension product you purchase. Dandelions are stubborn weeds that can be tough to kill but when applied early enough in the season, you can likely get rid of them (along with other weeds and crabgrass) by using Dimension herbicides.