The best laid plans for a lush, pristine lawn always seem to be thwarted by the most maddening of nature's pests: weeds. They may seem benign; some are even beautiful. But the reality is that every weed in your garden is taking nutrients and other resources from the plants that you've chosen to grow. They are invasive and, left unchecked, can take over the landscape and ruin the aesthetic for even the greenest of thumbs.
Type
Selective, post-emergent herbicide.
Selective, post-emergent herbicide.
Selective, post-emergent herbicide.
Systemic, post-emergent and non-selective herbicide.
Selective, pre-emergent, granular.
Weeds
Extremely effective on dandelion, clover, ivy, and other broadleaf weeds.
Broadleaf weeds, but more effective when applied early.
Grassy and small-seeded broadleafs. Extremely effective for crabgrass.
Grassy weeds, including crabgrass and moss.
Grass
Safe for most grass types.
Safe for warm and cool season grasses.
Not recommended for lawns with Dichondra or Bentgrass.
There are numerous methods for the removal of unsightly weeds, all with their upsides and downsides.
Sunday Smart Lawn Plan
Custom plan, delivered to your door
Every Sunday Smart Lawn Plan is based on your specific soil, climate, and lawn. Plans even include a soil test to zero in on any soil deficiencies. Everything is mailed to you exactly when you need to apply it, and it's as simple as spraying a hose.
Mechanically removing weeds by hand (pulling them out by the roots to prevent regrowth) is always an option. But it's a physically demanding strategy that is only practical for small areas with visible weeds. Physical prevention, using techniques like growing grass higher and watering deeply, are great ways to discourage growth of weeds without chemicals, but sometimes that just isn't enough.
Prevention, and keeping your lawn healthy, are the first lines of defense and can be highly effective as tools in an overall weed control strategy. But oftentimes even the most meticulous efforts will still result in a weed infestation. When deterrence fails, the next step is to choose an effective weed killer.
Here is a quick snapshot of our preferred weed killers for most grass types in the US (but I strongly encourage you to read the full article for more info on each type).
Understanding the types of weed killers
Weed killers, like weeds, come in myriad different types. Learning as much as you can about the traits related to different types of weeds and weed killers will be instrumental in helping you choose the right one for your needs.
Emergence
The first term you need to know is "Emergence". Ask yourself the question: Am I dealing with an existing weed? Like so many things in life, the right timing is the key to success.
Pre-emergent herbicides work to stop weeds before they become a problem. In the early spring, when grass and rogue weed seeds are beginning to germinate and begin their life cycle, the battle of lawn vs. weed begins. Most pre-emergent weed killers require careful application, with attention to proper mixing and coverage. They must be watered-in to activate the key ingredients. If irrigation is not available, try to time the application just before rain is expected.
A post-emergent weed killer is just what it sounds like: it is physically applied to the leaves after the plant emerges from the soil. Post-emergents are best used when weeds have just begun to grow and are not yet mature. Apply in the early spring as soon as you notice weeds sprouting. Early action must be taken to prevent further spread.
Selectivity
When applying herbicide, the spray could potentially drift onto non-target plants and cause unwanted damage. Some herbicides kill everything they touch, while others only affect certain plants.
A selective herbicide will kill only the plants that it is designed to target, while generally leaving surrounding grass unharmed. This type of product is usually the best choice for lawns and gardens.
A non-selective herbicide will be toxic to all plants in the vicinity. These are generally used only in areas that contain no desired or beneficial plants, like a driveway or sidewalk that has become infested with grasses or broad leaf weeds.
Mode of Action
Herbicides have two distinct modes of action: contact and systemic. Choosing a mode of action will be dependent on the kind of weed and how quickly you want to see results.
Contact killers are applied to the leaves and stems of the weed. They work on contact, which can happen very quickly, even within a few hours. This type of herbicide will not reach the roots. By destroying the leafy green parts of the plant that collect sunlight, the root system cannot survive. Shallow-rooted annual weeds are most effectively eradicated by contact herbicides, as long as application occurs during a growth period.
Systemic killers will soak into leaves and travel throughout the plant's system. Systemic weed killers stop the process of photosynthesis altogether and prevent absorption of nutrients once they reach the roots. Hardier, deep-rooted perennials are usually best handled by systemic killers, but it does take more time for the application to work. It can take days to several weeks to see results and a second application is often necessary.
Persistence
Also called "soil residual life", how long an herbicide remains in the soil is an important factor to consider. Persistence is determined by climate conditions, soil composition and chemistry, and the herbicide's molecular properties. Persistence can affect subsequent plantings and can be detrimental to the environment if not properly controlled.
Some weed killers only have a short residual life. This kind of herbicide is ideal for use in vegetable or flower gardens. It allows you to replant with confidence in the same soil soon after application. Applying these products exactly according to instructions, specifically not over-applying, is key to ensuring that the effects are temporary.
In some instances, you may want to have continued weed control for an extended period. These kinds of herbicides dissipate slowly, some of them binding so tightly to soil particles that they last years. Residual herbicides should be used sparingly and only when absolutely necessary. For example, glyphosate, known commercially as Roundup, is an herbicide that stays in the soil and leeches into groundwater. Traces of glyphosate have been found in many children's cereals, posing questions of toxicity and effects on human health (see: 5 Roundup alternatives).
Which should you use?
Grass types
Each plant species has its own special needs, and each variety of turfgrass has adapted to its environmental conditions.
Cool season grasses grow in the central and northern United States in the spring and fall. They include varieties such as perennial ryegrass, Kentucky bluegrass, and tall fescue. Their growth can slow so much in the summer months that they become dormant and turn brown from heat or stress.
Warm season grasses can be found in the southern United States, especially in the summer. They become dormant in the fall and winter, although summer dormancy can occur if temperatures are extreme. Zoysia and Bermuda are common types of warm season grasses.
The center of the country is known as the Transitional Zone when it comes to grass varieties. In this region one can find both warm and cool season grasses inter-seeded on the same lawn. And some warm season grasses have been cultivated for a higher tolerance for cold, which makes them ideal for this region.
What's the Best Herbicide Based on Weed Type?
Weeds generally come in broadleaf and grassy varieties, each responding to a different control strategy.
Broadleaf weeds are easily identified by their wide, flat, veined leaves. Many of these are flowering varieties, growing in the thin patches on the lawn, so they are difficult to miss. Because of how difficult they can be to get rid of, it is best to use a post-emergent, selective, systemic herbicide. As a general rule, only apply this type of product to broadleaf weeds when turfgrass is growing and has established a good root system.
Grassy weeds, like crabgrass, can be much harder to spot. The treatment of grassy weeds will depend on what kind of turfgrass you have. Some varieties of turfgrass stand up well to post-emergent, selective, systemic herbicides, but some will not. Read labels carefully to determine whether your grass will be affected. A pre-emergent, selective weed killer is a good option to use if you aren't sure. Most of the products available for grassy weeds have long periods of residual effectiveness.
Safety
Safety is a major concern for homeowners looking to buy a do-it-yourself herbicide. While most that are marketed toward residential customers will be safe to apply in areas frequented by children and pets, it is important to store these products high off the ground, preferably in a locked cabinet.
Read labels carefully, with attention to dilution instructions and necessary protective gear. Follow specific instructions, but it's always a good idea to avoid any contact with the product at least until it has fully dried.
Best Weed Killers for Lawns
T Zone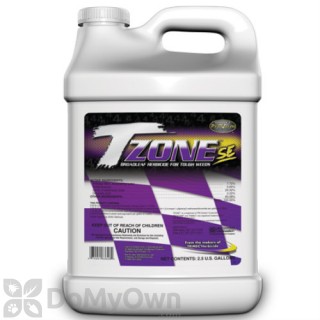 TZone SE Herbicide
Active Ingredients: 2,4-D, 2-ethylhexyl ester 29.32%; Dicamba 2.22%; Sulfentrazone 0.66%; Triclopyr, butoxyethyl ester 7.72%
TZone SE Broadleaf Herbicide for Tough Weeds is designed to provide broad-spectrum control of some toughest weeds on your turfgrasses.
Why DoMyOwn?DoMyOwn.com offers professional-grade insecticides to DIYers while ensuring proper storage of chemicals. Couple that with their impressive customer service and knowledgeable staff, it's the #1 choice.
T-Zone is a great product to control broadleaf weeds in cool season grasses. Using 4 active ingredients, it is a quick-acting, selective, post-emergent herbicide with multiple modes of action for hard-to-control weeds. It shows results in a matter of hours, with destruction of the plant within 7-14 days.
Do not apply T-Zone to warm season grasses unless fully dormant and able to tolerate turf injury. For Zoysia, Bermuda, or Bahia grasses, a better alternative is SpeedZone Southern. For Floratam, St. Augustine, and Bitterblue grasses, try Dismiss Turf Herbicide.
PROS
Multiple modes of action to control the most hard-to-kill weeds
Quick acting
Rainfast in 3 hours
One of the most complete and effective herbicides available.
CONS
Does not control grassy weeds
Not labeled for all grasses, so be sure to check the list
Not available in all states
Southern AG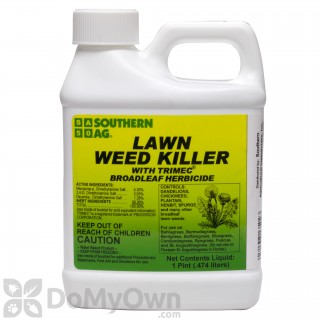 Southern Ag Lawn Weed Killer with Trimec
Active Ingredient: 2,4-D, dimethylamine salt 3.05%, Dicamba, dimethylamine salt 1.29%, MCPP-P, DMA salt 5.3%
Southern Ag Lawn Weed Killer with Trimec is a unique patented formulation of 2,4D, Dicamba, and Mecocrop to control a variety of broadleaf weeds in your lawn. The formulation has lower levels of 2,4D to provide desirable results when used in sensitive grasses such as buffalograss, St. Augustine, and bentgrass.
Why DoMyOwn?DoMyOwn.com offers professional-grade insecticides to DIYers while ensuring proper storage of chemicals. Couple that with their impressive customer service and knowledgeable staff, it's the #1 choice.
Southern AG is another great option for post-emergent weed control. It is a selective herbicide that kills over 200 broadleaf weeds quickly, acting in 2-14 days. Southern AG will not harm your grass but try to spray at least 6 weeks after any new seeding to avoid affecting growth.
It should be applied to weeds when they are still young, and you should avoid drift toward any flowers or shrubs in the vicinity.
PROS
Low use rate makes this an economical choice
Controls over 200 broadleaf weeds
Selective, will not damage your lawn
CONS
Does not control grassy weeds
Does not kill weeds down to the root
Dimension Herbicide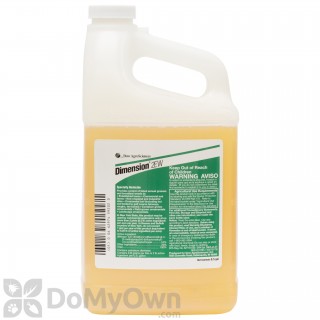 Dimension 2EW Herbicide
Active Ingredient: Dithiopyr 24%
Dimension Herbicide is a specialty selective pre-emergent herbicide formulation that provides powerful control of grasses and broadleaf weeds in turf, over the top of field and container-grown landscape and nursery ornamentals without harm. Dimension 2EW Herbicide is water-based and contains 2 lbs. of the active ingredient dithiopyr per gallon.
Why DoMyOwn?DoMyOwn.com offers professional-grade insecticides to DIYers while ensuring proper storage of chemicals. Couple that with their impressive customer service and knowledgeable staff, it's the #1 choice.
Dimension Herbicide is a type of pre-emergent, selective weed control that works on both grassy and small-seeded broadleaf weeds. It is approved for safe use on cool and warm season grasses for early post-emergent crabgrass as well. It is available in liquid and granular formulations.
While timing is always important, Dimension offers great application timing flexibility, offering a long window for effective application. As long at the product is activated by at least 1/2 inch of rain or irrigation, it works incredibly well to prevent crabgrass and over 45 other weeds from growing.
PROS
Works on pre-emergent and early post-emergent weeds
Kills broadleaf and grassy weeds
Comes in multiple formulations
Long application window
CONS
Turfgrass must be well established before application
Not available in all states
Spectracide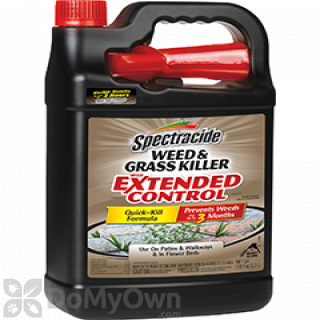 Spectracide Weed and Grass Killer With Extended Control RTU
Active Ingredient: Dicamba, dimethylamine salt 0.04%, Diquat dibromide 0.12%, Fluazifop-P-butyl 0.06%, Oxyfluorfen 0.1%
Spectracide Weed and Grass Killer With Extended Control is a non-selective herbicide that is ready-to-use and fast-acting. It kills all types of grasses and roots, targeting the roots to prevent regrowth.
Why DoMyOwn?DoMyOwn.com offers professional-grade insecticides to DIYers while ensuring proper storage of chemicals. Couple that with their impressive customer service and knowledgeable staff, it's the #1 choice.
Spectracide is a concentrated weed and grass killer that kills weeds systemically, down to the root, with visible results within three hours of application. This product is a post-emergent and non-selective herbicide, so it is best used in areas that do not contain any desired plantings.
If used properly, the chemicals in Spectracide are rainfast after only 15 minutes and you can plant new flowers or shrubs in 24 hours. It's best to wait 7 days after application to till or replant with grass seed or sod. This product is a great option for lawn/garden renovation or replacement.
PROS
Kills down to the root
Kills broadleaf and grassy weeds
Able to replant area soon after application
CONS
Slow working – takes several weeks for it to completely work
Non-selective, requiring careful use around other plants
Scotts Halts Crabgrass & Grassy Weed Preventer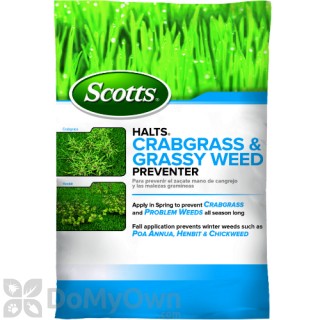 Scotts Halts Crabgrass and Grassy Weed Preventer
Active Ingredient: Pendimethalin 1.71%
Scotts Halts Crabgrass and Grassy Weed Preventer is a potent herbicide formulated to prevent crabgrass, oxalis, foxtail, spurge and certain types of weeds even before they start germination. This product also prevents grassy weeds in lawns that are dormant.
Why DoMyOwn?DoMyOwn.com offers professional-grade insecticides to DIYers while ensuring proper storage of chemicals. Couple that with their impressive customer service and knowledgeable staff, it's the #1 choice.
While we generally recommend spray herbicides, Scotts Halts Crabgrass and Grassy Weed Preventer is a great selective, pre-emergent option if you're looking for a granular formulation. It has a long persistence period, so only one application prevents crabgrass and other species for an entire season. Weather such as rain, snow, or even temperature extremes, does not affect the overall performance.
Scotts is most effective when applied in the early spring to dry lawns to prevent germination of grassy weeds, but it can also be applied in the fall to inhibit moss and varieties such as Poa Annua and chickweed.
Not recommended for lawns with: Dichondra or Bentgrass
PROS
Performs all season with just one application
Weather does not affect performance
Easy to Use
Effective in multiple seasons
CONS
Not safe for all lawns
Not recommended for use around ornamental plants
Cannot replant area for several months
Granular formulation is not always as successful as spray herbicide
FAQ
What's the best weed killer for clover? 
One of the best products to kill clover is T-Zone. It kills on contact and will continue down to the weed's root system. It will completely remove clover within 2 weeks, but you'll see visible effects on the weed within a few hours. It is gentle on nearby plants when used properly. T-Zone is a mix of four potent herbicides, that work together to knock out even the toughest weeds. 
What's the best weed killer for crabgrass? 
Crabgrass is one of the most difficult weeds to completely remove from your lawn. Overall, the best way to eradicate this summer pest is to use Dimension herbicide before the crabgrass begins to grow. The major benefit of Dimension is that it works to prevent the weeds from sprouting by creating a chemical barrier, but it is also effective on early crabgrass that has already emerged. The selective nature of the product also ensures that your turfgrass will be safe from harm while you say goodbye to crabgrass before it becomes a problem. 
What's the best weed killer for dandelions? 
Southern AG is your best bet to control unwelcome dandelions that have invaded your lawn. It works by attacking the weeds on contact without harming the surrounding grasses. This product provides consistent dandelion control for 6 months to 1 year from application and has a large coverage area (21,000 to 32,000 square feet). This is also a very economical option, because it takes so little to cover a large area. 
When is the best time to spray weed killer? 
Regardless of the type, it is best to apply weed killers over a period of several days with no precipitation and little wind. A mid-day application is preferred, to get as much sun as possible while avoiding morning dew. Avoid using weed killer during times of drought or stress to the turf.  

If you are using a pre-emergent, the best time to spray is early spring, before seeds have the chance to germinate. For post-emergents, it is best to spray when weeds are a growing phase. It will be much harder to control the weeds if they have matured and established large root systems, so getting this application down by mid-summer is generally ideal. 
How long does it take for weed killer to work? 
The time that it takes for a weed killer to work depends on a variety of factors, including type of chemical, the weather, the temperature, and the type of weed. In general, you should see complete weed destruction within 2-4 weeks of application. Some products work more quickly, with visible indications occurring in as little a few hours.