As you likely already know, crabgrass is an invasive weed that likes to grow in lawns and gardens. It can spread quickly and be difficult to get rid of.
In the United States alone, there are over 20 species of crabgrass that can be found growing on residential lawns. Crabgrass poses a serious aesthetic issue for homeowners because it is hard to get rid of and spreads remarkably fast.
Fortunately, there are some useful products on the market for getting rid of crabgrass. For those of us who are tired of the constant battle with crabgrass, there is a cure: weed preventers. Weed preventers kill weeds in your lawn before they have a chance to take root and wreak havoc on your beautiful lawn.
But which crabgrass preventers should you use? And what if it's already too late and your lawn has crabgrass? Here are some options and tips on how to decide.
What is Crabgrass?
Crabgrass is one of the most common weeds in North America. It's also known as "crooked grass" or "joint-grass." The weed has a thick, deep root system that can grow up to 12 inches below the surface. You will find crabgrass near sidewalks, driveways and even your garden flowers!
Crabgrass isn't necessarily harmful, but it has an unsightly appearance that inspires many homeowners to look for solutions to get rid of it for good.
There are many different types of grass that can be problematic, but crabgrass is one of the most notorious. It's short, it grows quickly, and it spreads easily. Not only does it take over your yard with its invasive roots, but when it dries up after summer ends, it blows around in the wind like tumbleweeds and sticks to everything.
Pre-Emergent vs. Post-Emergent Crabgrass Preventers
Although most people think of crabgrass preventers as products that are applied before the grass growing season starts (pre-emergent products), the reality is that there are many crabgrass treatments that can be used as post-emergent products once your grass is already growing, too.
Pre-emergent herbicides are those that act before seeds germinate. In order for these to be effective, you need to know the cycle of weeds that are growing in your lawn. Generally, these are applied quite early in the spring.
Post-emergent herbicides, however, are effective on seeds that have already sprouted. They are extremely useful when you need to get rid of crabgrass growing in places like cracks in the pavement or along borders.
Regardless, when shopping for crabgrass treatments, it's important to know whether the product you have selected will kill or prevent crabgrass from growing. That way, you can apply it at the right time.
Best Crabgrass Preventers and Killers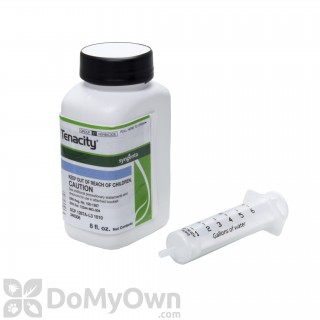 Tenacity Herbicide
Mesotrione: 40%
Tenacity Herbicide is a systemic pre-emergence and post-emergence herbicide for the selective contact and residual control of weeds in turfgrasses.
Why DoMyOwn?DoMyOwn.com offers professional-grade insecticides to DIYers while ensuring proper storage of chemicals. Couple that with their impressive customer service and knowledgeable staff, it's the #1 choice.
By far one of the most effective and best crabgrass preventers, Tenacity is a systemic pre-emergence and post-emergence crabgrass killer. It can also be used later in the summer to get rid of other stubborn weeds that have already appeared.
A 2-in-1 formula, it has both pre-and post-emergent benefits. It can be used on tough turf weeds in addition to crabgrass, killing plants to the root without harming lawn grass. It can be applied with a nonionic surfactant for post-emergent applications and is easily absorbed and effective within less than ten days of application
Pros:
Comes with spray indicator dye so you know where you have already applied it
Effective on more plants than just crabgrass
Best spot treatment product available for getting rid of crabgrass
Cons:
Should not be used on Bermudagrass or St.Augustine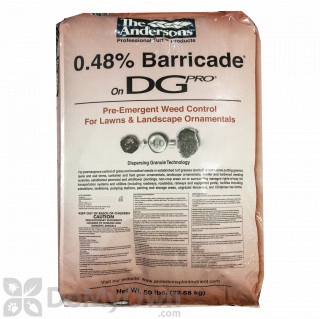 Andersons 0.48 Barricade Herbicide
Prodiamine – 0.48%
This weed and crabgrass preventer provides excellent residual control of broadleaf weeds because it inhibits the seed germination and the root development of weeds.
Why DoMyOwn?DoMyOwn.com offers professional-grade insecticides to DIYers while ensuring proper storage of chemicals. Couple that with their impressive customer service and knowledgeable staff, it's the #1 choice.
Anderons 0.48 Barricade Herbicide is an effective crabgrass preventer. However, it can also be used on plants like poa annua, henbit, and goosegrass.
It won't harm beneficial plants because it instead kills these harmful plants before their seeds even germinate. It can be used on lawns, landscape ornamentals, sod farms, turfgrasses, and more.
Best applied in the early spring and fall, this herbicide is available in both 18 and 50 lb bags. Offered in a granular formulation, it requires no mixing, measuring, or fuss before you apply it. Because of this, it is quick and easy to apply to get rid of your crabgrass problem for good.
Pros:
Can be used on all kinds of lawns
Is effective on broadleaf and grassy weeds alike
Quick and easy to apply
Cons:
Must be activated with half an inch of water within 14 days of application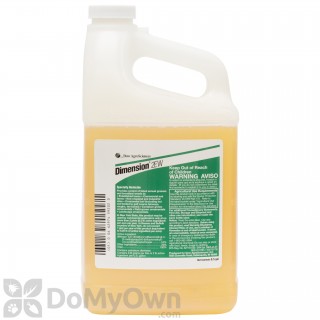 Dimension 2EW Herbicide
Dithiopyr: 24%
Provides pre-emergent weed prevention and early post-emergent control of crabgrass, and season-long control of crabgrass, goosegrass, foxtail, spurge and bluegrass annual (Poa annua).
Why DoMyOwn?DoMyOwn.com offers professional-grade insecticides to DIYers while ensuring proper storage of chemicals. Couple that with their impressive customer service and knowledgeable staff, it's the #1 choice.
Dimension is a dithiopyr-based herbicide that is highly effective against crabgrass along with many types of broadleaf weeds.
It is unique in that it can be safely used in container-grown nursery ornamentals and landscape plants without harming them. A water-based product, it contains about 2 lbs of dithiopyr per gallon, offering both pre-emergent and post-emergent benefits.
In addition to crabgrass, it can also kill plants like goosegrass, crabgrass, spurge, foxtail, bluegrass annual, and more. You should add a surfactant when applying this product but know that it is low-odor and non-staining. It can be applied via a split or single application and mixes up easily in spray tanks for quick, effective application.
Pros:
Kills more than 40 species of broadleaf and grassy weeds when applied according to the instructions
Low odor and non-staining
Offers season-long control
Cons:
Surfactant must be used for maximum effectiveness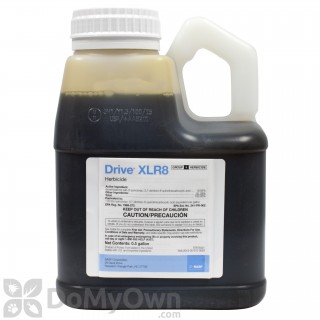 Drive XLR8 Herbicide Crabgrass Killer
Quinclorac: 18.92%
Drive XLR8 Herbicide is the latest technology in providing unsurpassed post-emergent crabgrass control. A proprietary, water-based formulation, Drive XLR8 improves the control of crabgrass
Why DoMyOwn?DoMyOwn.com offers professional-grade insecticides to DIYers while ensuring proper storage of chemicals. Couple that with their impressive customer service and knowledgeable staff, it's the #1 choice.
If it's REALLY too late, and pre-emergent control will not help you, then this crabgrass killer by BASF is the best post-emergent crabgrass killer, hands down. It is a water-based formula that can get rid of all kinds of broadleaf plants as well as crabgrass, kikuyu grass, and other weedy grasses you might want to control.
It is rainfast and offers quicker uptake for your plants. Available in quarts and pints, it has an active ingredient of quinclorac and can be used with a surfactant for increased effectiveness. When used as directed, it is even pet-safe.
Safe for use on residential and industrial turfgrasses, it is easy to apply and can be used as a spot treatment as well as a broad-use product.
Pros:
Rainfast in less than an hour
Available in multiple application sizes
Gets rid of other broadleaf weeds in addition to crabgrass
Cons:
Can't mow two days before or after applying this product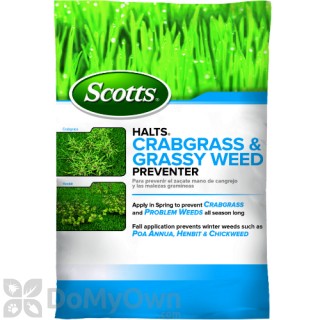 Scotts Halts Crabgrass and Grassy Weed Preventer
Pendimethalin: 1.71%
Scotts Halts Crabgrass and Grassy Weed Preventer is a potent herbicide formulated to ONLY PREVENT crabgrass, oxalis, foxtail, spurge and certain types of weeds before they start germination.
Why DoMyOwn?DoMyOwn.com offers professional-grade insecticides to DIYers while ensuring proper storage of chemicals. Couple that with their impressive customer service and knowledgeable staff, it's the #1 choice.
Scotts is a trusted name in lawn care, and is more readily available across the US. It can kill all kinds of weeds on your lawn and will prevent crabgrass before it even germinates. Performance is not quite as high as others on this list, but it still makes our list of top picks due to availability.
A weatherproof option, it can be used during rainy or snowy conditions as well as in freezing temperatures. Meant to be applied in a spreader, it is best used at the beginning of the season. It is the best option if you are looking for a budget-friendly product.
Pros:
Prevents lawn moss and most broadleaf weeds in addition to crabgrass
Can be applied in rain, snow, and freezing weather
Provides all-season control
Cons:
Cannot be used during seeding
Is a Surfactant Needed?
A surfactant is a product that is used in combination with a liquid herbicide. It is meant to help the product stick to the blades or leaves of a weed, allowing it to effectively soak into the plant rather than just running off into the soil.
Sometimes referred to as a wetting agent, a surfactant serves as a buffer for the chemical and makes it "stickier." Surfactants are not meant to be used alone but instead with herbicides. Some crabgrass preventers come with surfactants already mixed in so it's important to check to see if your product already has this included.
If it doesn't, then in most cases, adding a surfactant is a smart idea. It can make your herbicide more effective so you don't need to use quite as much product per application or to apply as many treatments to your lawn, saving you both time and money.
Tips for Applying Crabgrass Preventers
A good post- or pre-emergent crabgrass product will definitely get rid of the weeds for you, but applying it liberally all over your lawn without paying attention to where you are spraying can also damage the good grass you have growing.
Instead, when using a crabgrass treatment, it might be more effective to use it as a spot treatment. You can use an application sprayer that is designed specifically for this purpose.
If you are overseeding your lawn to get rid of bare spots, continue spot spraying throughout the season to allow your new grass the opportunity to survive.
Some crabgrass preventers come with blue dye already added to them, as you'll note in some of our product description above. Even if they don't come with this ingredient, it's not a bad idea to consider adding it to the sprayer. 
That's because blue dye makes it much easier to see what you have already applied so you can use less in certain areas. Blue dye will allow you to save money and time (while also reducing the amount of chemical used for environmental safety). It won't impact the effectiveness of your treatments, either.
Exercise caution when applying crabgrass treatments near edible crops. Many manufacturers offer products that don't have much of an impact on plants grown for food but it's important to pay attention to any application instructions, especially if you plan on keeping the food organic.
Some of the products listed above can be used on other types of weeds. You may want to look for a crabgrass preventer that offers this feature if versatility is important to you!
Finally, remember that not all crabgrass preventer options are weatherproof. Most can be rainproof for around an hour so that you can use them during wetter periods of the year, but it's essential that you do research on your specific brand of crabgrass preventer to make sure that this is the case.
There is no single best crabgrass preventer out there for everyone. Instead, you'll need to do some research to figure out which of the options listed above will be most effective for you based on your current lawn conditions.
There are many different types of crabgrass preventers on the market today. The best crabgrass preventers will control and eliminate your weed problem, all without harming other plants in your yard. It is important to choose a product that can be applied as needed, rather than at a set time each year.
Having a beautiful lawn is everyone's dream. But not all of us are blessed with great weather and soil conditions for this to happen. Consider the tips and tricks we've given you to determine which product will be right for you – and kick that crabgrass to the curb for good.
FAQ
What will kill crabgrass but not grass?
It can be challenging to find a herbicide that kills crabgrass but doesn't harm your grass. In most cases, however, a pre-or post-emergent crabgrass-specific product like Tenacity is the best way to get rid of crabgrass without killing grass species like Bermuda Grass or ryegrass.
When should I apply a crabgrass preventer?
Most crabgrass preventers should be applied in the early spring before soil temperatures are around 55 degrees. You can often apply a second treatment about eight weeks later. This will allow you to target all kinds of crabgrass that are growing and to make the treatments more effective. 
Should I mow before applying crabgrass preventer?
Because crabgrass preventers are pre-emergent herbicides, you'll need to apply it before the crabgrass seeds have sprouted, ideally by using a lawn spreader or seeder. It doesn't matter much whether you choose to mow before you apply it. However, if you are applying this herbicide on newly seeded lawn, you should wait until you have mowed several times before you apply for maximum efficacy. 
How long does crabgrass preventer last?
Depending on the application rates and product, most pre-emergent crabgrass products last around two to three months when applied at low rates. Many can last eight months or more when applied at the maximum rates. Just make sure you water in deeply, applying about half an inch of water, when you apply to make sure they are effective.