When it comes to choosing the right herbicide for your lawn, there are all kinds of considerations you will need to make. What sorts of weeds do you need to control, and where are they appearing? Are you growing a cool-season or warm-season grass type? Do you have pets or children that you need to be careful about applying chemicals around?
For many homeowners, Prodiamine is the answer to their weed control needs. Prodiamine is a selective herbicide that controls the growth of weed and brush species with no significant damage to agricultural crops. Prodiamine is an effective contact herbicide, so it only kills weeds when they are sprayed directly.
But is it the right choice for your lawn? And perhaps more importantly, is it safe? In the complete guide to Prodiamine, we will tell you everything you need to know.
What is Prodiamine and How Does it Work?
Prodiamine is an herbicide that's used to control weeds in a variety of crops. It's been around since the 1980s, and it has a long history of being safe for humans and animals alike.
It was developed by Sandoz AG and is frequently used on crops like cotton, alfalfa, soybeans, and ornamental crops. It is obtained from 2,4-dichlorobenzotrifluoride in a reaction with nitric acid and in the presence of ammonia, sulfuric acid, and dipropylamine. 
It works by inhibiting the formation of microtubules, or hollow tubes inside a plant cell's structure. Because of this, it's an effective pre-emergent herbicide that can stomp out unwanted plants before they ever have the chance to grow. It is absorbed through plants' roots and inhibits new roots and shoots growth along with, again, cell division.
Prodiamine is a highly effective product that is typically used as a pre-emergent for grasses and broadleaf weed control. It is one of the most flexible options out there, in fact, since it can be applied in either the fall or in the spring, offering all-seasons protection from weeds.
It can be used safely on all kinds of turf grasses, including fescue, bermudagrass, St. Augustine, and more. In many cases, it can even be applied to the lawn with iron solutions and fertilizers to help save you one time while also nourishing your lawn.
Each Prodiamine product will vary in terms of the weed species it targets. Most products, however, can control the following entities:
Annual bluegrass
Barnyardgrass
Chickweed
Foxtails
Goosegrass
Henbit
Johnsongrass
Knotweed
Woodsorrel
Rescuegrass
Pigweed
Purslane
Lovegrass
….and more.
The vast majority of Prodiamine products are safe to use on established turfgrasses, sod farms, ornamentals, and even around perennials and wildflower plantings.
How to Choose the Right Pre-Emergent Herbicide For Your Needs
When it comes to choosing the right version of Prodiamine – or any other herbicide product, for that matter – there are a few things you will want to take into consideration.
Formulation
The formulation of your product is the first thing to consider. Lots of people ask, "which works better – liquid or granular?" and when it comes to Prodiamine, it's really up to you.
If you're more comfortable spreading granular products and want to use a spreader, then obviously, a granular formulation will be best. However, if you'd rather spray liquid from a backpack sprayer or hand can, then that's the way to go. Choose the formulation that works best for you and that you prefer.
If you're new to applying herbicides and aren't sure which way to go, consider using a granular product. It can be easier to learn how to spread herbicide with a granular formulation, especially when you consider that there's no mixing required.
Liquids, on the other hand, can save you some money since they are concentrated, but more importantly they typically work better because it seeps into the soil faster and doesn't wash away as easily. 
Brand Name
Below, we'll give you suggestions on some of the best Prodiamine products you can consider. Most of the time, these products are marketed as just that – Prodiamine. However, you might also see this herbicide sold under names like Regalkade G, Barricade, and Resolute.
If you see these alternative names, don't let them bear any weight in your purchasing decision. The names all mean exactly the same thing and most of the time, the products are identical.
Weeds to Be Controlled
Prodiamine can control a wide variety of annual grasses like goosegrass, crabgrass, barnyardgrass, foxtails, annual bluegrass, and broadleaf signalgrass. It can also control some annual weeds like spurge, pigweed, and henbit.
However, there are a few weeds for which Prodiamine is not effective. You'll need to find an alternative or consider an herbicide that will work well for the species Prodiamine targets along with the ones it does not.
Some weeds that Prodiamine is not effective for include:
Nutsedge
Ragweed
Dogfennel
Phyllanthus
Morning glory
Eclipta
Common groundsel
American burnweed
Bittercress
This product also does not work the best on established weeds, large-seeded broadleaf weeds, and perennial grasses.
Budget
As mentioned above, if you're on a budget, a liquid product is the way to go. However, the difference in price between various Prodiamine products is usually marginal, so don't let this feature stress you out too much.
Best Prodiamine Herbicides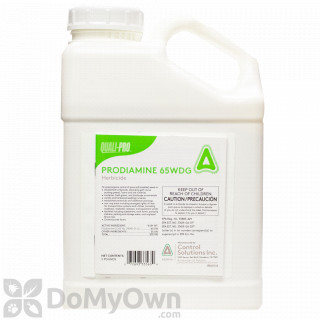 Prodiamine 65 WDG (Generic Barricade)
Active Ingredient: Prodiamine – 65%
Prodiamine 65 WDG (WG stands for Wettable Dispersible Granule) is an effective pre-emergent herbicide for pre-emergent grass and broadleaf weed control.
Why DoMyOwn?DoMyOwn.com offers professional-grade insecticides to DIYers while ensuring proper storage of chemicals. Couple that with their impressive customer service and knowledgeable staff, it's the #1 choice.
Prodiamine 65 WDG is a pre-emergent herbicide that controls weeds in both the spring and fall seasons. It can be used on St Augustine, Bermudagrass, Fescue grasses as well as many other varieties of turfgrass plants.
A unique feature of this product, also sold by the name of Barricade, is that it can also be used to control bluegrass, witchgrass, spurge, and more. It's safe for use on established turfgrass and is non-staining. Plus, you can apply it at the same time you apply other iron solutions and fertilizers.
Features:
WDG (wettable dispersible granule)
Sold in a 5 lb jug
Same active ingredient as Barricade 65 WDG but more affordable
65% Prodiamine
Pros:
Affordable option
Easy to apply
Can be mixed and applied with fertilizers and other products
Seasons-long crabgrass control
Cons:
Not sold in Alaska or New York
Sold only in one size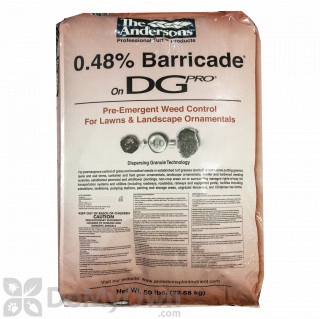 Andersons 0.48 Barricade Herbicide
Active Ingredient: Prodiamine – 0.48%
This weed and crabgrass preventer provides excellent residual control of broadleaf weeds because it inhibits the seed germination and the root development of weeds.
Why DoMyOwn?DoMyOwn.com offers professional-grade insecticides to DIYers while ensuring proper storage of chemicals. Couple that with their impressive customer service and knowledgeable staff, it's the #1 choice.
Andersons is another must-know brand when you start shopping for Prodiamine herbicides. This product, also sold by the name of Barricade, has a lower concentration of the active ingredient Prodiamine yet is still extremely effective.
This product is a granular sold in both 18 and 50 lb bags. It can be used to control any unwanted broadleaf and annual grassy weeds, including crabgrass, goosegrass, poa annua, and henbit.
It won't harm beneficial plants as it works so it's the ideal product to use on established turf grass or around ornamentals. It is best applied in the early spring or fall, ideally with about half an inch of water.
Features:
Available in 50 and 18 lb bags
Contains .48% Prodiamine
Granular formulation
Pros:
Easy to apply with no mixing
Controls most grassy and broadleaf weeds
Only one application required
Cons:
Requires even, calibrated application
Must be applied in the early spring
Does not control established weeds
Yard Mastery Prodiamine 65 WDG Professional Pre...
5OZ BOTTLE - Professionally formulated for DIYers who want small quantities of pre emergent. Enough for 1 entire season on a...
STOP CRABGRASS - Use this in spring and fall to stop crabgrass and poa annua as a pre emergent but this also stops other listed...
WATER DISPERSIBLE GRANULE (WDG) - Mix in water and sprayed out as a liquid via pump or battery sprayer. Product must be watered...
This Prodiamine product by Yard Mastery is sold in a small five-ounce bottle. It's a small dose that is perfect for someone with a smaller yard who doesn't want to commit to buying a 50 lb bag of granular Prodiamine.
It can be used in either the spring or fall to help control crabgrass along with poa annua and other weeds. It's a water-dispersible granule that requires you to mix in water and then spray it out as a liquid or via a pump or battery sprayer. Like most other Prodiamine products, it does need to be watered in.
You can apply this product at a rate of .183 oz of Prodiamine to one gallon of water, which should treat an area of about 1000 square feet.
Features:
Works on most types of grasses, including Kentucky bluegrass, perennial rye, bermuda, zoysia, tall fescue, centipede, St. Augustine, and bahiagrasses
Water dispersible granule
Enough for one entire season on a 10,000 square foot yard
Pros:
Can be used in the spring and fall
Affordable product
Smaller dosing is ideal for homeowners
Cons:
May require two applications
Instructions can be hard to follow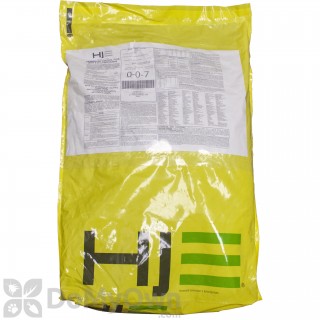 Crabgrass Control Plus 0 – 0 – 7 with 0.37% Prodiamine Herbicide
Active Ingredient: Prodiamine 0.37%
Crabgrass Control Plus 0-0-7 with 0.37% Prodiamine Herbicide is a quality turf fertilizer that provides selective pre-emergence control of grass and broadleaf weeds in established lawns, perennials, wildflower turf, ornamental turf, and landscape ornamentals.
Why DoMyOwn?DoMyOwn.com offers professional-grade insecticides to DIYers while ensuring proper storage of chemicals. Couple that with their impressive customer service and knowledgeable staff, it's the #1 choice.
This Prodiamine product is unique in that it is not just an herbicide – it's also a fertilizer. It's the best option if you want a two-for-one special to save you both time and money.
It contains 0.37% Prodiamine to help selectively control most grass and broadleaf weeds in and around established lawns, wildflower turf, perennials, ornamentals, and more. It is made out of 100% potash with a unique blend to minimize separation and maximize its efficacy.
Just one 50 lb bag covers roughly 12,500 square feet, a bargain when you consider the many uses of this versatile product.
Features:
Sold in a 50 lb bag
Pet safe when used as directed
Not for use on edible crops
Can be used on centipedegrass, bermudagrass, bahiagrass, seashore paspalum, St. Augustinegrass, tall fescue, zoysiagrass, and more
Pros:
Contains potash along with Prodiamine to fertilize your lawn while controlling weeds
Works on most kinds of turfgrass
Controls dozens of different types of weeds
Cons:
Small percentage of Prodiamine may not be as effective on super weedy areas
How to Apply Prodiamine Pre-Emergent Herbicide
When it comes to applying Prodiamine, as with any kind of pre-emergent herbicide, it's important to pay close attention to the instructions on the label of your specific product.
That's because these instructions can vary widely, particularly when it comes to how the product is formulated (for example, liquid versus granular).
However, in general, you will apply about .75 to 1.5 lb of active ingredient per acre. This equates to around .27 to .54 oz per square foot.
After applying Prodiamine, be sure to water plants. This will help settle the soil and press the solution into the ground. You'll need to give your plants about half an inch of irrigation, if it doesn't rain, as soon as possible. Don't wait any longer than 14 days to water.
Be mindful of where you apply Prodiamine. In most cases, it won't harm other plants nearby, but a spray application can harm ornamental plants more than granular treatments. Similarly, foliage that is young and tender may be more prone to injury.
When to Apply
Prodiamine herbicide is a powerful weed killer that can be used at the start of the season or when weeds are already established. It's important to know how to use Prodiamine, though, as it has some unique properties and uses.
Successfully and effectively using Prodiamine starts with knowing when exactly you should apply it.
The best time to apply this herbicide is before weeds emerge. Generally, this is a few weeks before you might consider planting anything new or laying down new grass seed.
It's better to apply Prodiamine too early in the spring than it is too late. It often will remain effective even if you apply it a tad too soon. When applied at the proper time, it should last for around six to eight weeks. In some situations, it may last as long as 16 weeks.
FAQ
Can you apply too much Prodiamine?
You can apply too much Prodiamine but the good news is that the impacts won't likely be disastrous.
The biggest issue you might see is that the Prodiamine becomes less effective. This is because, when you over apply this product, it causes microbes in your lawn to break it down too quickly and to multiply at an undesired rate. So in effect, applying too much Prodiamine ends up leaving you with less Prodiamine overall. 
Do you need to water in Prodiamine?
Prodiamine needs to be watered in. However, it's important to make sure the ground is not overly saturated but instead just adequately moist. About half an inch spread out over several days is the ideal way to water this product. 
How do you mix Prodiamine 65 WDG?
Mix Prodiamine with at least 20 gallons of water. Around half a pound to one pound will treat an acre of most types of turf. 
What month do you put down pre-emergent?
Early spring and fall are the best times to apply pre-emergent herbicides. They will prevent new weeds that sprout so while they can be applied later on in the year, these times are best because that's when new weeds tend to germinate. 
How soon can I seed after applying Prodiamine 65WDG Herbicide?
Be careful about seeding new grass after applying Prodiamine, since it can inhibit the growth of many turfgrass species that are overseeded too soon. Ideally, you should wait around four months before putting down any seed.